Spotter Activation Statement
Created: Friday, 02 May 2014
Last Updated: Saturday, 18 February 2017
Published: Friday, 02 May 2014
Thinking about doing some burning? Whether it's a small trash pile or an entire field, it's imperative that you check the current weather conditions as well as the forecast. Often times, what starts as a small fire, quickly grows out of control. Remember, you are responsible for any damages, injuries and even deaths that occur as a result of the fire you started.
Please use the links below to check current and future weather conditions before striking that match. If you do decide to burn in Dickinson County, contact the Communications Center before you start your fire. Call 712-336-2525 and give the dispatcher your name, phone number and the address where you'll be burning. We frequently receive calls from people reporting fires. When we get these types of calls, we must dispatch the fire department unless we know that the fire is a controlled burn. Calling in your controlled burn will save the fire department the time and expense of having to respond and save your tax dollars!
Today's Grassland Fire Danger Index
The Grassland Fire Danger statement will be issued daily from April 1st to November 15th. It will also be issued during the winter months if the index reaches Very High or Extreme. If the GFD index is missing or outdated, click here.

---
Definitions: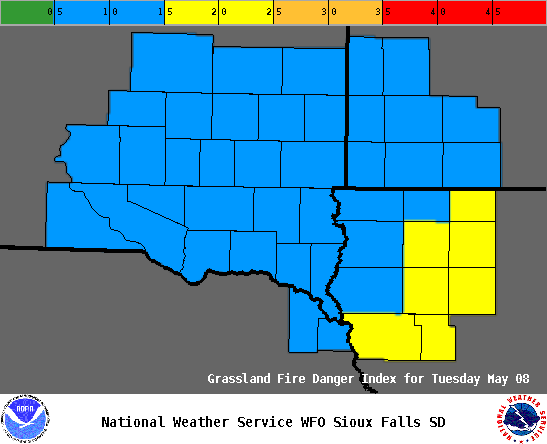 Low: Favorable weather conditions or a high moisture content of grasses and other dry organic material on the ground indicate that the probability of a fire occurrence is low. Outdoor burning under these conditions can usually be performed with reasonable safety precautions.
Moderate: Marginal weather conditions or a lowering moisture content of grasses and other dry organic material on the ground indicate that there is some potential for a fire occurrence. Do not leave outdoor fires unattended under these conditions.
High: Unfavorable weather conditions or a low moisture content of grasses and other dry organic material on the ground indicate that there is a moderate to high potential for a fire occurrence. Outdoor burning should be restricted to early morning or evening hours when wind speeds usually lower and the relative humidity is higher.
Very High: Very poor weather conditions or a very low moisture content of grasses...and other dry organic material on the ground...indicate that dangerous burning conditions exist. Fires will spread rapidly and show erratic behavior. Outdoor burning is not recommended.
Extreme: Extreme weather conditions or a very low moisture content of grasses and other dry organic material on the ground indicate that critical burning conditions exist. A fire will start easily and has the potential to become large and spread quickly becoming erratic with extreme behavioral characteristics. No outdoor burning should take place.
Source: National Weather Service Sioux Falls - Issued daily from April 1 through November 15, and as needed during other times of the year. Learn more
Current Weather Conditions
Check the current weather conditions, paying particular attention to the wind direction and speed as well as the humidity. The lower the humidity, the drier the air and the more likely that fire can spread. Combine low humidities with strong winds and the fire can quickly become erratic and fast moving. Check the map
here
 to see the current weather conditions.
Hourly Weather Forecast
Weather conditions can change quickly. A cold front can quickly move through the area, changing winds from a southerly to northerly direction in a short period of time. Use the hourly forecast below to see what the weather conditions will be hour-by-hour for the next 48 hours. To get the hourly forecast for the next seven days, click here. (The hourly weather forecast is created by the Sioux Falls National Weather Service Office.)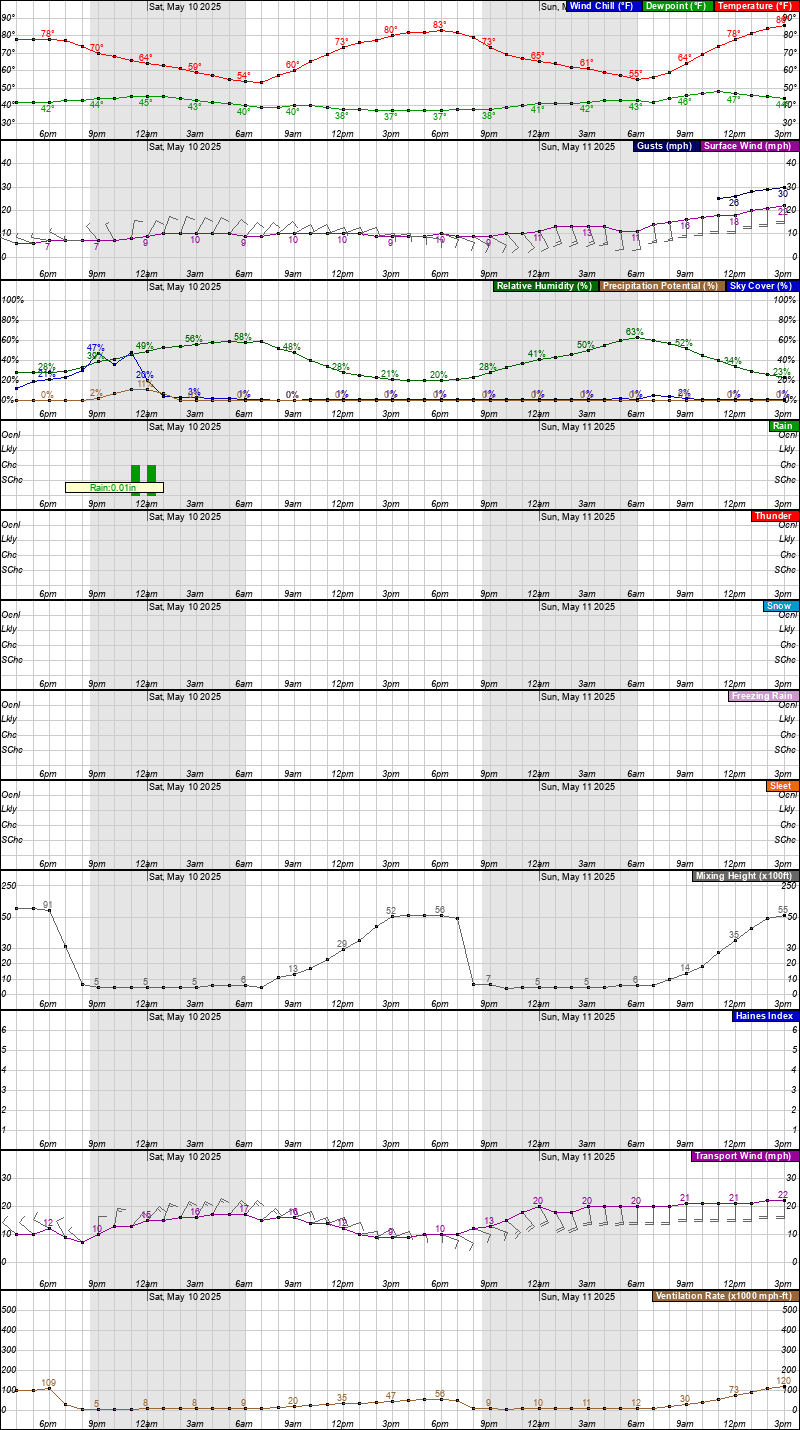 Current Fire Weather Forecast issued by the NWS
Tips for Conducting Open Burning
♦ Never use gasoline, kerosene or any other flammable liquid to start a fire because the risk of personal injury is high.
♦ Burn one small pile at a time and slowly add to it. This will help keep the fire from getting out of control.
♦ Select a location away from any utility lines.
♦ While the fire is burning, an adult must attend the fire until it is completely extinguished.
♦ Have fire extinguishing materials on hand including a water supply, shovels and rakes. The water supply could be a pressurized water fire extinguisher, a pump can or garden hose, and be sure to test it out before igniting the fire. You do not want to find out that the water is still shut-off at the house faucet or that the hose is cracked when you need it most. For larger burns, have machinery close by such as disks or cultivators.
♦ Be prepared to extinguish your fire if the winds pick up or weather changes. Use common sense and remember that sudden wind change is how most open burning gets out of control.
♦ If for some reason, the fire should get out of control, call 911 immediately. Use the utmost caution to prevent injury to yourself or family members or any damage by fire to your home.
♦ April is usually the worst month for brush fires. When the snow pack recedes, before new growth emerges, last year's dead grass, leaves and wood are dangerous tinder. Winds also tend to be stronger and more unpredictable during April.
♦ Open burning releases large amounts of carbon dioxide, other gases, and solid substances directly into the air, which can contribute to respiratory problems. Disposal of natural materials is never as good for the environment as using them again in a different form. Tree limbs, brush and other forestry debris can be chipped or composted into landscaping material.